Creating a luxurious bathroom is one way transform your home into a haven. Putting your own stamp on a bathroom is a beautiful way to personalise your home. We use our bathrooms every single day so it's only fitting that we invest some money into making the space perfect for us. The bathroom should function well so ensuring you have the best products is key. If you're unsure where to start, we've got some beautiful tips to get you going.
Contemporary Design
A minimalist style is clean, aesthetically pleasing and very uncomplicated to look at. There is nothing more beautiful than an elegant, clean bathroom. You can incorporate a variety of metals and neutral finishes, from a polished chrome to a contemporary shower design with smooth dials and ultra-thin wall plates. Aqualisa provide stunning solutions to your contemporary bathroom design queries with their personalised shower products giving you the luxurious feel to your bathroom you deserve.
Top Tip: Using black in your contemporary design is the perfect luxury solution to your bathroom. For example, black accent décor such an industrial style window mirror or accessory pack including your soap dispenser, tooth paste holder and toilet brush holder.
Smart / Digital Showers
With the Optic Q shower you can create a personal profile for your entire family as and when they take a shower. An exciting element of this shower is the voice control paired with Hello Google and Amazon Alexa, could you get more luxurious than that? If you're really wanting to go the extra mile to create a luxury bathroom then you've hit the nail on the head with a digital shower.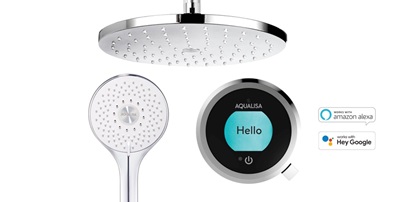 Image Credit: Aqualisa
Accessories
For the perfect luxury bathroom accessories you can consider looking into metals and natural materials. There is something about metal that screams luxurious and elegant. Ensure you incorporate these materials in your accent décor and accessories for the perfect interior design. Looking into a polished metal or matt black toilet roll holder with matching towel rails, taps and soap dispensers are just a few examples of how you can tie together your décor perfectly to complement your room.
Top Tip: Ensure you have extra fluffy towels for the entire household, including your hand towels and guest towels. The fluffier the better as this scream's elegance and luxury, and most importantly its so kind for your skin.
Colour Scheme
Keep your colour scheme in keeping with the vibe you're aiming to achieve. If you're looking for contemporary, luxury, elegance, you need to reflect this in your colour scheme. It goes without saying that incorporating a neutral scheme within your bathroom allows for you to include the darker pops of colour through your accessories. You'll have much more to work with if you allow the tones to flow beautifully through your bathroom without over doing it in terms of your colouring. I always believe, the brighter and bolder the colour, the less luxury and elegant, so try and stay neutral if you can with the odd pop of colour in your accessories.